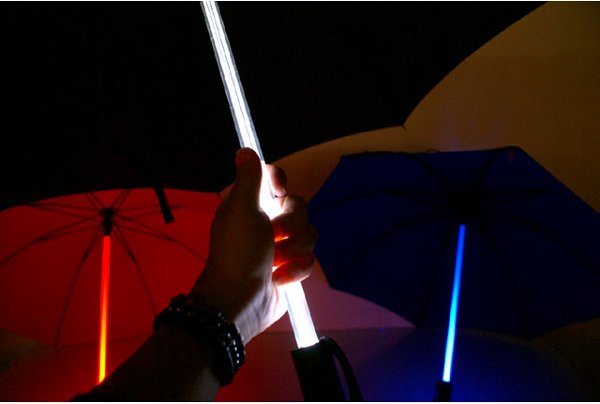 The invention of the umbrella can be traced back thousands of years, but never to one absolute source. It's use has been depicted in historical texts, images and carvings dating back millennia-- to ancient Rome, Egypt, China and the Middle East. Today, we may take this handy tool for granted. On the rainiest of days, what would you do if this tool was never created? To celebrate the value of the umbrella in modern life, here is TheCoolist's list of 20 amazing, creative and futuristic umbrellas that have taken this classic invention into wild new frontiers.
The Pileus Internet Umbrella Projects the Web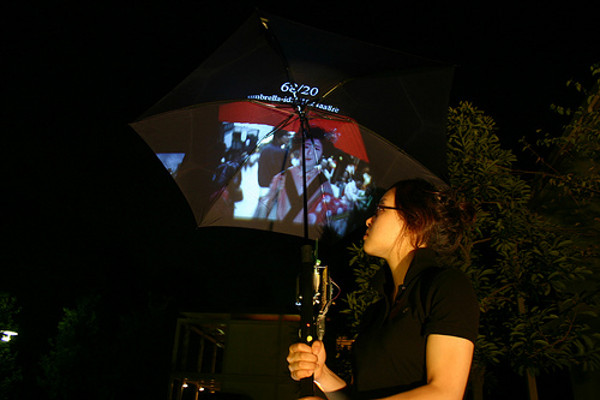 Ever noticed that the common texture of your typical umbrella canopy is not unlike a projector screen? Designers Takashi Matsumoto and Sho Hashimoto once noticed the same similarity-- and upon that realization they created the
Pileus Internet Umbrella
. Pileus is an umbrella that includes a mobile PC and a projector to display live internet content while keeping its user dry in the rain. While you're singing in the rain, Pileus can play a Flickr slideshow, show a weather map update, watch youtube videos etc... Don't plan on getting your hands on a Pileus any time soon, as this umbrella is still in prototype stages. [
link
]
The "Umbuster" Brass Knuckles Umbrella
The LightDrops Rain-Powered Electric Umbrella
The Multi-Unit Superbrella
The Hydro-Chromatic Umbrella
The Bluetooth Mobile Messenger Umbrella
The Senz Smart Umbrella
The Home-Made Electric Umbrella
The Contracting "Polite Umbrella"
The Hands-Free Nubrella
The Tandem Umbrella
The Stand Umbrella
The Sword Umbrellas
The Inside-Out Umbrella
The Gunbrella
The Lightstick Umbrella
The Weather Forecasting Umbrella
The Cloud Umbrella
The EcoBrolly "Unbrella"
The Flask Umbrella